Do you envy the svelte and bewitching figures of some of the celebs and wonder how do they manage it despite having a taxing work schedule, events, promotions, shows that happen all through the year? At 28, Taylor Swift is as sought after for her looks and fitness as she is for her albums and films.
Fitness is a crucial part of Taylor Swift's life. Not only does she consume the right foods for staying fit, but she also makes sure that she is high spirited most of the times. So, aren't you excited already to know her diet plan and her rigorous fitness regimen? There you go, beauty!
Taylor Swift: Diet in Detail 
You may be surprised but you need to know this! Neither does Taylor starve herself to thinness nor does she usurp dishes from her meals. In what may come across as a shocking revelation, she does not like using the word 'diet'. She is a supporter of healthy eating habits. Let's discuss her daily food habits without wasting anymore time.
Drinking enough water to keep the body hydrated: Taylor believes that it is essential to keep the body hydrated for a well-toned figure. So you cannot underestimate the importance of drinking a lot of fluids. She drinks around 10 bottles of water in a day. Undisturbed by what others say about this habit of hers, she knows pretty well the benefits of keeping her body hydrated. She carries her water wherever she goes.
Eating Healthy During Weekdays: Taylor stands by eating healthy on weekdays. She swears by having salads, yogurt, sandwiches and tries as much as possible to avoid sugary drinks. She generally has light meals but does not make it too exorbitant. To counteract the cravings for sweet, she has salads. Sometimes she lays her hands on fish and vegetables with salad to get an appropriate amount of nutrients.
A little spoiling The Taste Buds Over the Weekend: Don't we all want to indulge in our favorite foods occasionally even if that means munching on some extra calories. And Taylor is no exception to the rule. During weekends, she goes big on high-calorie comfort foods without holding herself back. She goes for a tiny burger or French fries. Another one on the list is ice cream. She even gorges on toffees and cookies made by her mother despite the fact that they are loaded with calories.
Give Your Favorite Meals a Healthy Makeover: Cook For Yourself, Sometimes! Taylor does so. She is oh so interested in cooking, particularly baking. She bakes cookies frequently. During winters, she makes pumpkin bread for her family. Her all time favorite is pumpkin spice latte. She cooks new dishes occasionally. And sometimes she makes chicken and pasta for her lovely friends and family.
What She Stocks in Her Fridge: When she is touring, snacking becomes all the more necessary for the young singer. She mainly eats healthy snacks but sometimes loses her control to yummy cheeseburgers. She drinks a special shake called Swift Shake which was made for her by Dr. Oz. It has peanut butter, ground flaxseeds, dried cranberries with chocolate chips.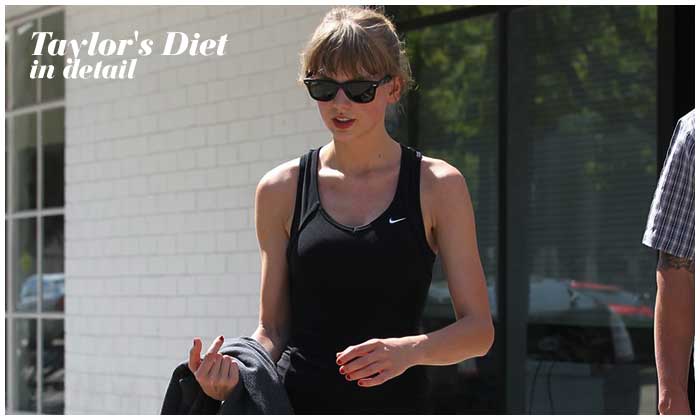 Now the million dollar question- How can you follow her eating patterns and habits if you do not know what to eat and when?  To make it easier for you, we are charting out a diet plan that you can follow
Timings
 What To Eat?
6.00 AM
2-3 cups of water at room temperature or

1 Cup of water with juice of half a lime

(Breakfast) 7.00 AM
Egg frittata  + 1 cup of milk + 4 almonds Or

1 Ham Sandwich with tomato and spinach + 1 cup of fresh orange juice + Half avocado.

10.00 AM
Hummus and Baby Carrots or

Fruit with yogurt

(Lunch) 12.30-1.00 PM
Chicken/Tuna salad with minimal dressing + A cup of yogurt
(Snack) 3.30-4.00PM
Swift shake with ingredients as mentioned above in the article Or

A cup of green tea + saltline crackers

(Dinner) 6.30-7.00 PM
Roasted chicken with sweet potato and veggies Or

Crab cakes and veggies or

Chicken Soup with veggies

Before going to sleep (10.30PM)
A glass of warm milk
What Experts Have to Say? 
Nutritionists and diet expert say that this diet plan is perfect and will suit the requirements of younger generations who want a slim trim body. Elisabetta Politi, Diet and Fitness Center, Duke University feels that this approach of Taylor towards eating is very practical and feasible. Analyzing the plan she feels that Taylor eats light without taking things to extreme levels. She drinks hell lot of water and gives in to junk foods only sometimes, which is acceptable. She does not drink sugary beverages as it adds fat. She does not keep herself deprived of her favorite foods and eats instantly rather than following a strict calorie chart. She is generally skinny and this works to her advantage. Doesn't matter if you are not her body type. Focus on her eating habits and maybe they'll work for you. But you can make this diet chart work for you. But how? Let's discuss
Making The Diet Chart Work For You 
This is a low-calorie diet which might or might not work for you. But the key takeaway here is that you should get up early, have meals every 2-3 hours, do not delay your dinner, go to bed 2-3 hours after having dinner, and get a proper 7-8 hours of sleep.
You can modify this diet chart according to your calorie requirements and preferences for food (vegan or vegetarian). Replace eggs with bananas and chicken with lentils, tofu, mushroom etc.
If you want to put on some weight consume healthy foods, gorge up on proteins, and do strength training for building muscle mass. If you want to lose weight this is a good-to-go diet chart. But your doctor is in a better position to guide you as he knows the exact status of your weight, age, height and medical history. Now let us delve deeper into what Taylor does in the gym to keep herself as amazing as she is.
Taylor Swift's Fitness Regime
Not only does this brilliant actor-singer eat mindfully but also tries her best to stay slim and toned. She does not miss her cardio routine and is very particular about her workout. Again she is not irrationally gaga over working out but ensures that she does things that enable her to stay fit and healthy.
Has A Regular Working Out Routine: Quite like what she does with the foods, she has a regular workout regime. She believes genes might betray. So she runs quite long distances every morning to keep her energy levels high. Not only this, but she also does other types of workouts. She is a regular at the gym and trains hard.
Running on The Treadmill: Taylor is pretty tall and has lean legs which makes her more beautiful. She makes sure that she has toned legs which are in shape all the time. To achieve this, she uses a treadmill. She even uses an elliptical trainer.
Sweating It Out, Honey!: Taylor does not mind sweating it out irrespective of the fact that it does not make her look so good at that time. She wants to remove all toxins from the body by sweating and working out. It also helps in keeping aft at bay.
Not Obsessed with a Slim Figure: Working out is a crucial thing for Taylor. However, this does not mean that she is obsessed with having or maintaining a super slim figure. It is her belief that you must work out not just for reducing weight or slimming down. This can pull you down so you should focus on being healthy and fit.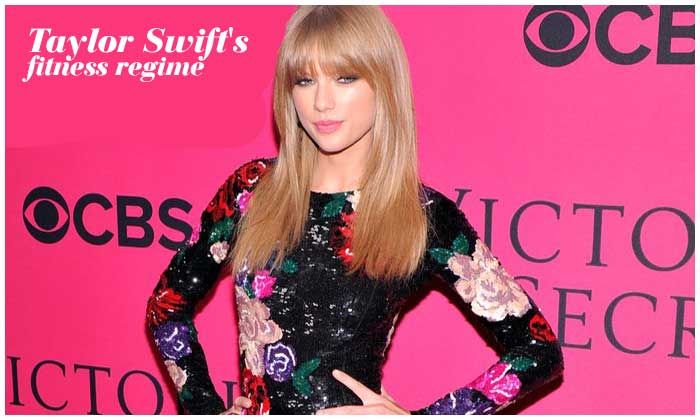 Workout Routine
You need to warm up before you hop on the treadmill or lift the dumbbells. Spend a decent 10 minutes preparing yourself for the workout. Here is what you should do:
Warm up (10 minutes)
Neck Turns ( A set of 10 reps)
Head Tilts ( A set of 10 reps)
Wrist circles ( A set of 10 reps)
Arm circles ( A set of 10 reps)
Waist circles ( A set of 10 reps)
Shoulder circles ( A set of 10 reps)
Side Lunges ( A set of 10 reps)
Calf raises (2 sets of 10 reps)
Spot jogging ( 3 minutes)
Jumping jacks ( 2 sets of 20 reps)
Ankle circles ( 1 set of 10 reps)
Standing side crunches ( 1 set of 10 reps)
Now you are all set to burn calories and build muscles. Let us uncover how to get a toned body
Abs Workout
Leg ups ( 3 sets of 12 reps)
Sit ups ( 3 sets of 12 reps)
Bicycle crunches ( 2 sets of 25 reps)
Crunches ( 2 sets of 15 reps)
Mountain climbers (2 sets of 25 reps)
Russian twist with kettlebell ( 2 sets of 15 reps)
Plank (30-60 seconds)
Legs Workout
Treadmill ( 15-20 minutes)
High knees ( 2 sets of 15 reps)
Lying air cycling ( 3 sets of 15 reps)
Standing lateral leg raise ( 2 sets of 15 reps)
Weighted forward lunges ( 2 sets of 15 reps)
Calf raises ( 3 sets of 15 reps)
Clamshell ( 2 sets of 15 reps)
Arms Workout
Bicep curls ( 3 sets of 12 reps)
Tricep extension ( 3 sets of 12 reps)
Dumbbell lateral raise ( 2 sets of 15 reps)
Hammer curls ( 3 sets of 12 reps)
Tricep dips ( 2 sets of 10 reps)
Buttocks Workout
Full squats ( 2 Sets of 15 reps)
Explosive Forward Lunges ( 2 sets of 12 reps)
Single leg hip bridge ( 2 sets of 12 reps)
Explosive squats ( 2 sets of 12 reps)
Kickbacks ( 2sets of 15 reps)
Sandbell Curtsy Lunge ( 2 sets of 15 reps)
Back Workout
One arm dumbbell row ( 2sets – 15 reps)
Seated cable rows ( 3 sets – 15 reps)
Wide grip lat pulldown ( 3 sets – 12 reps)
Underhand cable pulldown ( 3 sets – 12 reps)
Shoulder and Chest Workout
Chest Press ( 3 sets of 12 reps)
Front Raises with Dumbbells ( 3 sets of 12 reps)
Dumbbell Pullover ( 2 sets of 12 reps)
Dumbbell Shoulder Press ( 3 sets of 12 reps)
Push-ups (2 sets of 10 reps)
Chest Fly ( 2 sets of 12 reps)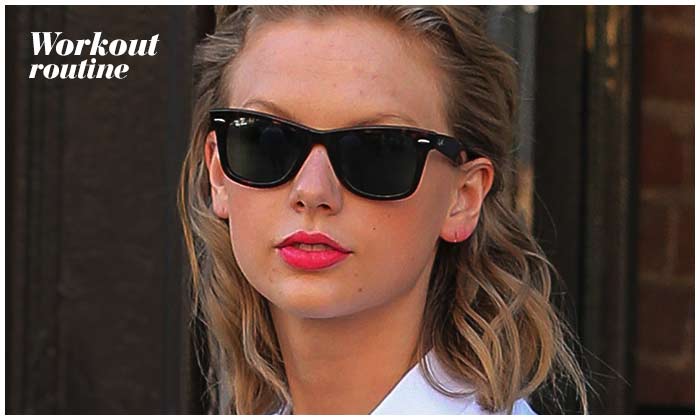 This regimen tells you with clarity which parts of the body should be exercised each day, Ensure that you do both strength training and cardio in different degrees depending on your fitness goals. Speak to your trainer and formulate an exercise plan. And make sure you get enough rest so that the muscles can rejuvenate.
Taylor does not make things complex for her. She gets guidance from her dietitians and trainers. We don't want to demean you if you do not have a body like her. That is perfectly okay but her commitment and determination for staying fit and active are exemplary. And this is what you should take home with you. Make an effort to have an optimal weight, eat healthy which will guard you from having life threatening diseases, exercise and workout to get rid of negativity and boost your confidence and build a cordial relationship between your mind and body.
Take care!